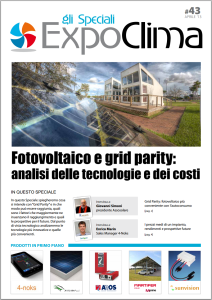 Photovoltaic and grid parity: analysis of technologies and costs
Grid Parity: photovoltaic cheaper with self-consumption
The Grid Parity is the time when the electricity produced from renewable energy alternatives has the same price as that produced by fossil fuels.
With the decrease of the cost of the industrial chain, and considering all the factors of cost, it is possible to estimate that at the end of 2013 will be obtained by photovoltaic electricity at a cost equal to that paid today by the majority of Italian utilities.
This event will lead to a new business model in the photovoltaic sector, where the focus will no longer gain on investment, but real savings on your bill.
It's important to stress that for SMEs that can reach 50% or more of their own consumption, the cost of photovoltaic energy is already competitive with conventional electricity costs in many regions of Italy.